Rescue Center: A home for injured orangutans and orphans
The Orangutan Care Centre and Quarantine (OCCQ), close to the village of Pasir Panjang and Tanjung Puting National Park, was founded in 1998 and is managed and supported by Orangutan Foundation International (OFI). There are over 100 employees who come from Pasir Panjang itself and the surrounding villages. The sanctuary therefore is one of the main employers in the region. The vets and laboratory staff are also from Indonesia.
The OCCQ currently takes care of over 300 orangutans. Most of them are orphans whose mothers were killed by poachers. Others, mostly older animals, were caught in palm oil plantations or during their escape from burning forests. Others were confiscated from private households.
New arrivals, often only a few months old, spend several weeks in quarantine before they arrive in the actual sanctuary. Many of them are heavily traumatized and suffer from illness, wounds, and malnutrition. Without intensive 24-hour care they would not survive.
As orangutans normally stay with their mothers until about eight years of age, reintroduction into the wild is only possible from this age on. Until then they need to be cared for within the sanctuary while they acquire the knowledge necessary for survival in the wild. To assist their learning, there is an area of forest adjacent to the sanctuary, where the juveniles are able to practice climbing, building nests, and foraging.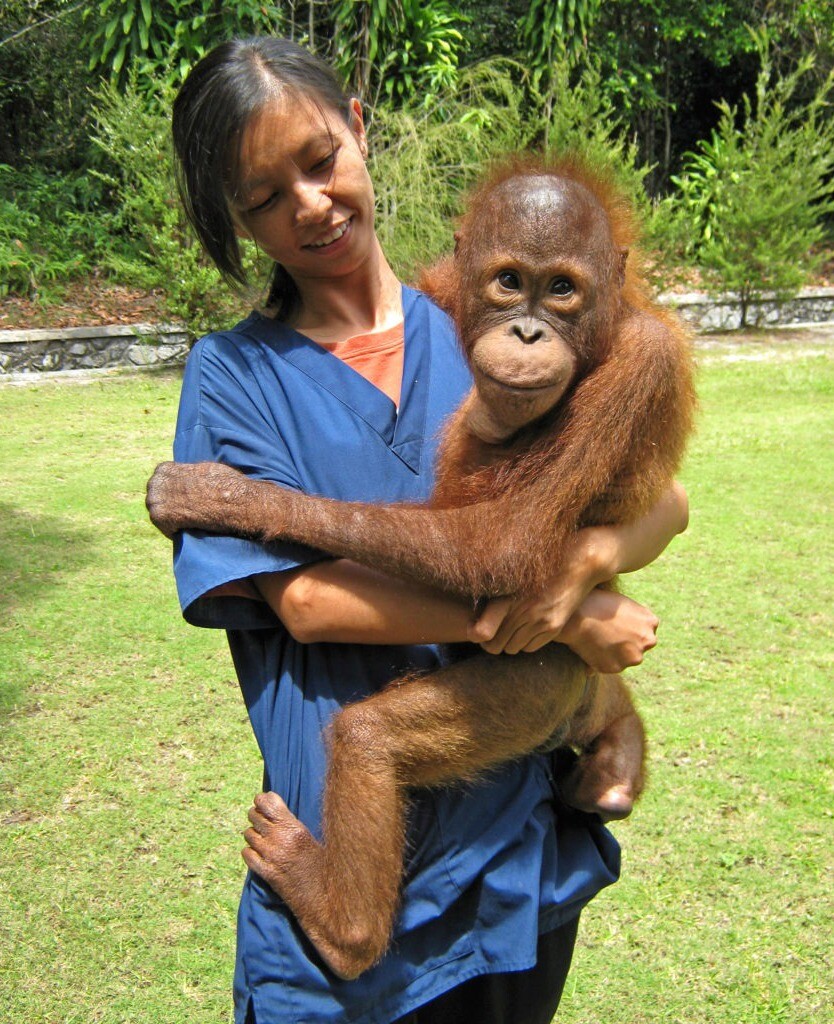 Unfortunately, there are also orangutans that, for various reasons, cannot leave their enclosures or can never be reintroduced into the wild and therefore will probably need to spend the remainder of their lives in the sanctuary.
Keeping animals in enclosures not only means a limitation on space but also can lead to a loss of natural behavior and activities. Because of regular feeding, for instance, the animals are not forced to look for food as they would in the wild, where foraging is a very important part of daily life. Boredom for the animals can result – and they may even become apathetic. To counter this, the sanctuary tries to provide animals who cannot leave their enclosures with enrichment activities.